NEWS
NQ News
Thursday, 21st of October 2021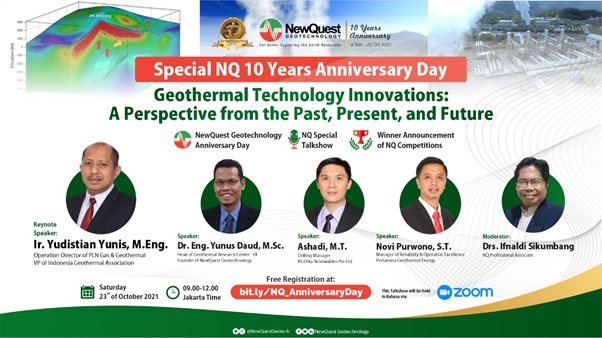 Since its establishment in 2011, NewQuest Geotechnology (NQ) has been contributing in geothermal energy development for more than 50 areas with resources discovery for more than 3 GW. In order to express our gratitude of NQ achievements and celebrate 10 years of its contributions, NQ organize several series of events under NQ 10 Years Anniversary, including the Main Event of Special NQ Anniversary Day.
This event will be held on 23rd of October 2021. We invite special geothermal experts from industries who have very long geothermal experiences to share their innovations in the Special NQ Talkshow entitled "Geothermal Technology Innovations: A Perspective from the Past, Present, and Future".
Keynote speaker:
"The Importance of Sustainable Technological Innovation to Reduce Geothermal Development Risks"
Ir. Yudistian Yunis, M.Eng.
Operation Director of PLN Gas & Geothermal
Vice President of INAGA
Speaker 1:
"The Innovation of Exploration Technology in Reducing Drilling Risk for Discovering Geothermal Reservoir"
Dr. Eng. Yunus Daud, M.Sc.
Head of Geothermal Research Center - UI
Founder of NewQuest Geotechnology
Speaker 2:
"The Innovation of Drilling Program and Technology in Increasing Time and Cost Efficiency for Executing Geothermal Wells"
Ashadi, M.T.
Drilling Manager
KS Orka Renewables Pte Ltd
Speaker 3:
"The Innovation and Operation Excellence in Increasing Productivity for Optimum Power Generation"
Novi Purwono, S.T.
Manager of Reliability and Operation Excellence
Pertamina Geothermal Energy
For you who have very enthusiastic, please don't miss it!
We Invite you to participate in this event.
Please note the impotant date:
🗓️ Saturday, 23 October 2021
🕐 09.00-12.00 (Jakarta Time)
This event will be held in Bahasa via Zoom application
Free Registration at:
NEWS GALLERY