NEWS
NQ News, Wednesday September 30, 2020
NQG Wins Indonesia Geologist Association (IAGI) Exploration Awards 2020 for "Best Geothermal Services Company" category.
The IAGI Exploration Awards 2020 is the first event in Indonesia that gives awards for the achievements of the exploration of earth/ natural resources, whose process began in September 2019, culminating in 29 September 2020 by announcing the award winners.
There are 5 types of awards namely; Best Exploration Investment (Largest Expenditure & Exploration Commitment), Best Discovery, Best Innovation and Technology, Best People Development and Best Service Company for each kind of resources; Oil and Gas, Mineral, Coal and Geothermal.
For the Best Geothermal Service Company category, there are 3 nominees namely; PT Geoservices, PT Thermochem Indonesia and PT NewQuest Geotechnology for the qualifications of the best service company in assisting exploration discovery and development of human resources. The jury decided the winner was NewQuest Geotechnology.
In his remarks, the Founder of NewQuest, Dr. Yunus Daud, expressed his gratitude, thanks to IAGI, the committee and Board of Jury. He continued to make this award an encouragement for greater exploration works and activities in the future. At the end of his speech, Dr. Yunus mentioned almost all the names of Commisioner, Management, Geoscientist, and all staff who joined NQG. This Awards goes to all of you Guys !!!
The event held offline at Fairmont Hotel Jakarta under Covid19 protocol and virtually live on YouTube.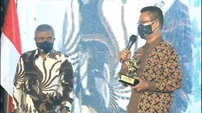 NEWS GALLERY