NEWS
NQ News, Monday September 21, 2020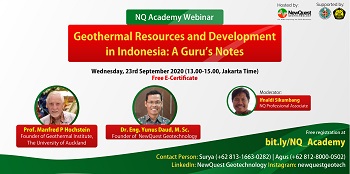 NewQuest Academy
NQ Academy, is a geothermal center of excellence under NewQuest Geotechnology, will held the 1st NQ Webinar on Wednesday November 23, 2020. The webinar will present Prof. Manfred P Hochstein, Founder of Geothermal Institute - The University of Auckland, with topic of "Geothermal Resources and Development in Indonesia: A Guru's Note". This webinar also present Dr. Eng. Yunus Daud, Dipl. Geotherm. Tech., M. Sc., Founder of NewQuest Geotechnology, will Introduce NQ Academy, continue with a presentation on Future Challenges & Opportunities in development geothermal in Indonesia.
Prof. Manfred P Hochstein, mostly Indonesian Geothermalist call him with "Mbah Hochstein", a very respectful and friendly call. He is a teacher for some of Indonesia's senior geothermalists and Grand Teacher for young geothermalists. There are 2 great tracks of Prof. Hochstein in the Indonesian geothermal industry. The first is in the Exploration Sector which is compiled in a publication entitled "History of geothermal exploration in Indonesia from 1970 to 2000", published in 2008. And the second is in the Education Sector where through the Geothermal Institute - University of Auckland, he taught many Indonesian geoscientists and engineers.
One of his student is Dr Yunus Daud, Head of Geothermal Exploration Master Program, Chairman of Geothermal Research Center of University Indonesia and Founder of a Geothermal Exploration Services Company "NewQuest Geotechnology". Currently, many young Indonesian geothermal experts both in government and private companies are students of Dr. Yunus.
When Prof. Hochstein carried out exploration activities in Indonesia, at that time the number of geothermal locations was still around 200 and the study was focused on 70 high temperature locations. Now there are 351 geothermal locations spread over 30 provinces based on data from the Geological Agency spread in 30 provinces consisting of 100 high temperatures, 167 medium temperatures, and 84 low temperatures.
This first NQ Academy Webinar will take the audience to the early days of geothermal exploration in Indonesia in 1920s, first electricity from geothermal energy generated by mini monoblock plant in 1978 and the first Geothermal Power Plant Kamojang-1 30 MW was commissioned in January 1983.
The audience will also be updated with future opportunities and challenges where the latest Geothermal Road Map of Indonesia mentions a target of 8 GW by 2030.
Don't miss it !!!
Wednesday, 23 September 2020
Time 13.00-15.00 (Jakarta)
Zoom Webinar
Free Registration at bit.ly/NQ_Academy
NEWS GALLERY